"It is not the strongest of the species that survive, not the most intelligent, but the one most responsive to change."

-Charles Darwin
In recent months people have been talking about and attending virtual events due to social distancing restrictions. Many companies have pivoted to virtual events to meet their business goals.
Virtual Trade Shows are a "New Frontier," and your expectations and understanding of their capabilities may be unclear. What is clear is that the term virtual event means different things to different people.
The term virtual event means different things to different people.
At Lab Exhibits & Services, we have been working with our customers to help them transition to virtual trade shows and open new opportunities to capture more market share. Our clients have been introduced to a new world that allows them to re-imagine trade shows as hybrid events with live and virtual shows working in unison.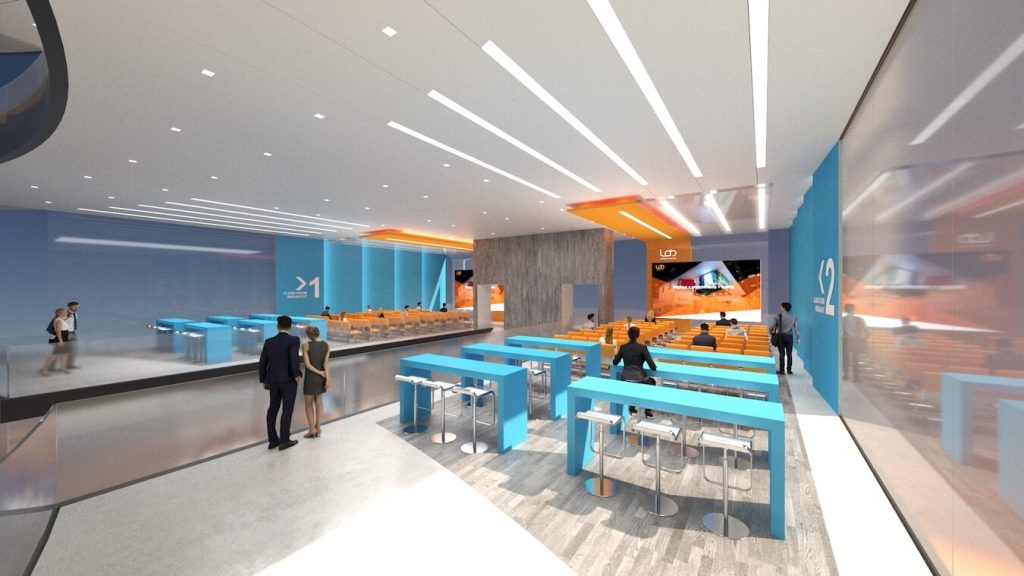 Below, we explore the key components of different virtual events and define how each type could help your business.
5 Types of Virtual Events
Virtual Meeting – A virtual meeting is what most people have been referring to as a "Zoom Call". Many people are not just using Zoom; there are other options like GoToMeeting, Google Hang Outs, WebEx, and Facetime, to name a few. No matter which platform you use, virtual meetings are the most popular and least expensive. They are user friendly and provide a "Face to Face" interaction with your attendees. Users can share their screens, change their backgrounds, and the host can monitor who speaks by muting attendees. Many businesses are using virtual meetings to interact with clients and conduct internal conference calls with their associates.




Webinars – Webinars have been around for some time and are an easy and inexpensive way to engage an audience. They can be live-streamed through various webinar hosting platforms or recorded. The format tends to be a presentation given by one or more key speakers. During a live webinar, an attendee has a live chat option, which allows them to ask questions or respond to polls. They can also participate in surveys and receive downloadable materials. Companies can utilize them to conduct industry-related training seminars or create engaging content to target consumer audiences.




Virtual Conference/Summit – Virtual Conferences have become very popular recently. This type of event is a combination of live streaming and virtual meetings. Ticketing and registration are required, and attendees can participate in many interactive options. Organizers can host multiple virtual stages for keynote speakers, breakout sessions, chatrooms, and vendor booth links. Downloadable content and other free giveaways are often available to visitors. Virtual conferences require a paid virtual event platform that can entertain an unlimited number of attendees and give you the ability to use audience engagement tools. Speaker fees may also be applicable, and video, lighting, and production equipment might be required for an additional cost. The upside to these events is that overhead costs are much lower for both the host and attendee while still offering comparable value. Many conferences quickly moved to a virtual platform.




Virtual Tours/360 Degrees Point & Click – Virtual tours have also been increasingly popular. A virtual tour or a 360 Degree point and click is a series of high-resolution images sequenced together to create a virtual experience. The images can be interactive and clicked on to allow the user to zoom in or find out more about the product. It can include multimedia elements like music, video, text, and narration. The user experience is 100% interactive and user-guided. Like museums and zoos, many tourist destinations created virtual tours of their establishments for people to "visit" while at home. Businesses have also utilized this technology for consumers to visit their retail stores, showrooms, and tour real estate.




Virtual Trade Show – A virtual trade show is a fully immersive 3D environment. It is a cloud-based application that does not require any downloads and has no size limits to the environment space or number of participants. A virtual exhibit is designed to be fully interactive. It can look exactly like your company's current trade show display, or new and additional environments can be introduced for different segments of your marketing goals. Visitors are often required to register in advance and can customize an avatar with options such as look and style preferences, including branded clothing. They then log on to the site from their device and explore the environment using their avatar. They can walk up to actual products that have been modeled based on your design or approach information kiosks. Attendees can also interact with a live person shown on a monitor or in avatar form and can have a "face to face" meeting in the environment. This interaction allows them to receive real-time answers and will enable you to qualify the prospect and follow-up accordingly.


In addition to trade shows, environments like these can serve as sales presentations, showrooms, corporate social events, and training seminars. These environments will soon be the norm as part of a hybrid trade show strategy with both live and virtual environments working simultaneously to reach a greater audience. A customized trade show virtual environment will likely be more expensive than any of the options above, but it also creates the most meaningful and memorable interactive experience for your customers. However, when compared to a live trade show, it will be a fraction of the cost after you factor in all the associated expenses. The opportunity for a reasonable return on your investment is much greater.
Virtual events are going to be a part of our landscape from now on.
The world of virtual environments is evolving quickly with a wide variety of options and functionality. Professionals are finding the positive benefits of attending a virtual event over a live show. It costs less to attend, and it is easier to fit into their schedule while avoiding risk. Event hosts are also finding them more cost-effective, and they can reach a broader audience.
Our creative team is currently working on the development of virtual environments. Please contact us for an in-progress demonstration at ezilinskas@labexhibits.com.
At Lab Exhibits & Services we can help you with all your live and virtual trade show productions.
For more resources and information, click here!