"Forewarned is Forearmed."
-Latin Proverb
The live trade show industry is slowly getting back on its feet after more than a year of show cancellations and postponements. Collectively, we are back to planning future trade shows and working closely with our clients and vendors. However, things are looking a lot different than they used to and it appears as though we have a new set of rules to play by.
Due to the pandemic, we are dealing with many issues with suppliers and vendors. As a result, your exhibit manufacturing and display services outlook may need to change regarding timelines and budgets.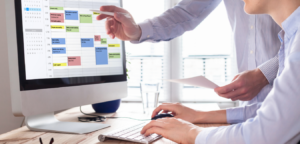 Here are a few things to consider as you begin planning your next live trade show.
Vaccination Requirements:
Recently, two large healthcare conferences announced that attendees, exhibitors, and staff must show proof of being fully vaccinated to attend their trade shows later this year. Click to Read.
This requirement could become the norm for our industry, and it could present challenges for some organizations. Do your research on future show vaccination requirements and have conversations with your staff to be prepared.
 Rising Costs of Raw Materials:
 The costs of raw materials have been on the rise for some time. As an example, according to the Wall Street Journal, "Lumber prices have sailed more than 75% higher than the pre-pandemic record." A 4'x8′ sheet of plywood has more than doubled in cost in the last year.
The cost for other materials such as Steel, Aluminum, Sintra (PVC), and Plexiglass have also risen considerably.
While planning, you need to understand that prices will be inflated, so be ready to increase your Budget or decrease your display needs. Also, keep checking your supplier's costs. We are seeing some suppliers suspending their price lists until they can achieve price stability.  Quotes also have a shortened life span and decisions will need to be made quickly to lock-in prices.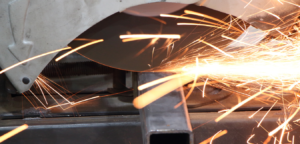 Supply Chain Delays:
The supply chain has slowed down for primary construction elements and display services. The backlog at shipping ports and weather-related delays have impacted lead times. In addition, the cost of shipping services is rising due to increased fuel costs and the lack of drivers. However, drivers are not the only trade professionals in short supply.  There are also labor shortages in most industries, which could result in construction labor shortages for installation and dismantling exhibits.  As a result, every industry is experiencing high demand, low inventory, long lead times, and labor shortages.
Whether you are planning a Portable display or a Custom exhibit, start the process earlier than you typically would. There will be no opportunity to expedite with the cost of air freight nearly up 200%.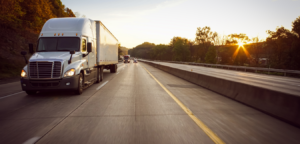 These challenges all sound like doom and gloom, but the vaccine brings hope that factories and suppliers can soon ramp up production. In the meantime, consider this an "eye-opener" to prepare you better and help you plan the execution of your next display project.
Trade Show Planning Options in 2021
The current business climate is making it challenging to plan a trade show effectively. Until the cost of raw materials and the supply chain delays stabilize, we are left trying to find feasible options. Below are two viable options I believe every exhibitor should consider this year.
Custom Rental Exhibits:
The best way to alleviate current budgetary and timeline pains is to rent a custom exhibit.
An existing rental display can be modified with custom embellishments to fit your form, function, and brand requirements.  Executed correctly, no one would know that you are renting your display.  A custom rental exhibit will typically cost approximately 25% – 33% of a newly built display. In addition, you receive the added value of the following:
Environmentally Friendly
Cash Flow Improvements
No Storage Costs
No Annual Maintenance Costs
The Risk of Ownership is with the Exhibit House
You can expense a rental exhibit in the year it is used as opposed to amortizing it over several years.
Multiple show deals are available to lessen your annual cost with an optional buyout clause if ownership is desired.
The option to rent a different exhibit for each show can keep your look fresh. A different design is more likely to attract audiences that have seen your booth at previous shows.
Custom Exhibit Builders such as Lab Exhibits typically have an extensive inventory of display materials which can serve to offset the current commodity price pressures.  Please contact us for a tour of our rental portfolio and to better understand your rental display option.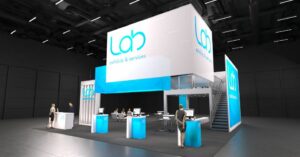 Previously Owned Exhibits:
A previously owned exhibit is a great way to create something entirely new out of an existing display. The display is re-designed and transformed to serve a completely new purpose. Not unlike a rental display, this is a very environmentally friendly approach for your trade show program. The challenge with an existing custom exhibit is to find one that serves a significant percentage of your functional needs. If you are fortunate to do so, the next step is to convert it to your brand and messaging requirements. There has been a flood of displays entering the used market for sale, and most custom houses have a limited supply of used goods, or you can also try websites such as https://exhibittrader.com/
To protect your budget, please keep the following in mind when buying these types of properties:
Age is not always a major factor, but the condition of the exhibit and its crates will impact your refurbishment costs.
Take the time to physically inspect the property at the vendor's facility.
Confirm that the exhibit includes comprehensive construction and installation CAD drawings with a detailed pack list.
Obtain an estimate to refurbish it to your requirements before you buy it. If the overall cost is marginally less than buying a new display, you may want to opt for a new property.
Research the cost of servicing the display for your trade shows along with an annual warehousing quote.
Make sure that the exhibit conforms to all your show's rules and regulations.
Regardless of how well or how early you begin planning, one thing is clear.  We will likely be dealing with factors beyond our control for at least the remainder of the year.  However, there is hope that soon, things will normalize, and perhaps trade shows will be back even bigger than before.
At Lab Exhibits & Services, we can help you with all your live trade show custom and rental display needs.  We are also currently developing virtual environments that will serve as extensions of live events. Please allow us the opportunity to share our ideas with you and help you create opportunities for the coming year.
Please email me at ezilinskas@labexhibits.com for additional information or for free copies of my RFI, RFP, Design Questionnaire, and General Proposal templates. "Boothmanship" training is provided at "No Charge" upon request.