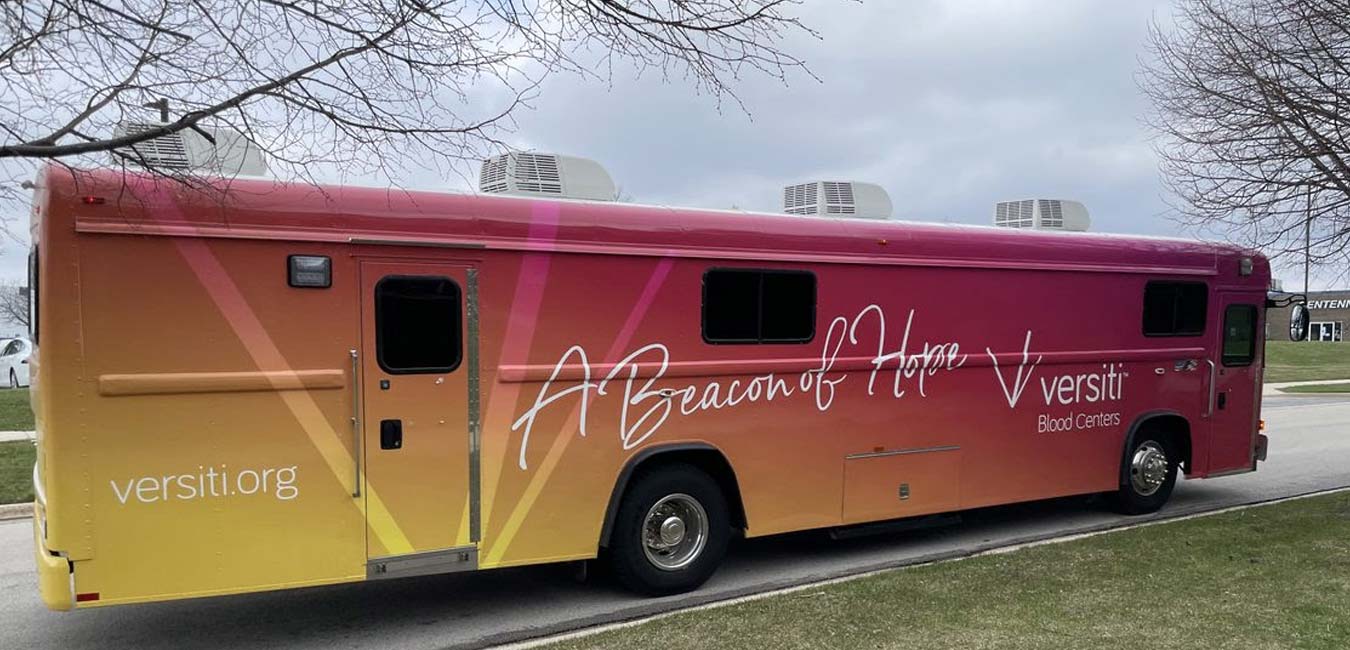 Did you know that across the Versiti footprint, there are 21 buses in our fleet? The average age of the buses in our Versiti fleet is 15 years old. We have four new buses on purchase for 2022, which will replace our oldest buses, and we recently refurbished one of them –the Eagle. The Eagle joined the Versiti fleet in 2007. Since that time, it has gone on approximately 2,200 blood drives and collected approximately 47, 565 units of blood. With 6 more years of service "Eagle" will hopefully collect another 20,000 units!
"The Transportation and Fleet department is tasked with the privileged responsibility of transporting not only life sustaining blood products, but also the people who administer them," said Matt Klausner, Versiti Transportation Supervisor. "We must ensure the overall health of the fleet to safely transport our teams, whose primary mission is to save lives."
About the Eagle Bus
Once it was determined the overall structure of the Eagle was sound, it made sense, both financially and environmentally, to refurbish the Eagle. According to Matt, "we believe refurbishing the Eagle supports our desire to be kind to our environment by not scrapping a bus, while enabling us to keep it in service for longer," he continued.
After an intense amount of work, time, and energy that went into this major project, the Eagle returned to service in April after a seven-month complete rebuild. It is already scheduled for several upcoming drives.
Versiti looks forward to six more years of service from the Eagle, helping us collect another 20,000 units of blood. Looking forward to that point, Eagle will have served Versiti for 21 years, collected approximately 60,000 units of blood and impacted the lives of nearly 180,000 people.
"The Eagle bus makes staff proud," said Denena Edwards, Director, Donor Services. "We are proud of where it has been and where it is going in the future. We need vehicles that both donors and staff are comfortable in, and this helps us continue our mission while preserving a little bit of history," she continued.
Debut of the new Eagle
Refurbishing the Eagle
Versiti of Illinois partnered with several fabricators to rebuild the Eagle.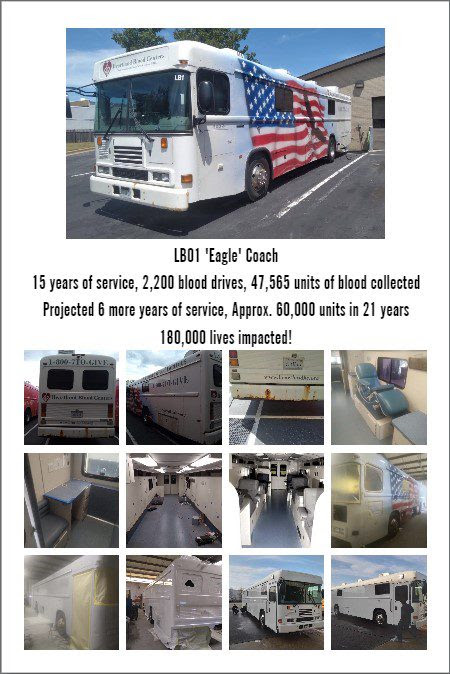 Chandler Services of Mokena, Illinois did the heavy lifting with a complete rebuild of the 50-foot body, all new brake system and rebuild of the mechanicals.
Chandler Services and Versiti Blood Centers have enjoyed a long and meaningful relationship. "Over the years, it has been very rewarding to be a part of the Versiti family and to support the mission of saving lives through blood donations," said David Chandler, owner of Chandler Services. "It is a real privilege to have played a key role in the restoration of the Eagle; it brings a smile to everyone's face to see it rolling down the road," he continued.
Another vendor, Lab Exhibits & Services, focused on the interior, including removing the cabinetry and walls of 'the Eagle' and prepping them for revision. The interior was cleaned, donor chairs were reupholstered and refinished, screening room dividers were re-laminated, and all new door and cabinetry hardware was installed.
"We are honored to have partnered with Versiti and support their essential lifesaving efforts," said Vice President of Lab Exhibits & Services, Jennifer Janega. "With blood shortages across the United States, it has been a labor of love to do our part to help out," she continued.
The successful rebuild of the Eagle is prompting Versiti Blood Center of Illinois to consider the possibility of refurbishing the other buses in the future. None of this would be possible without the creativity, dedication, and countless hours that our partners have invested into working on the Eagle and other Versiti vehicles!