If you haven't been to a trade show this year, you need to know that 2023 is the year for sprucing up your presentation for the exhibition stage. While the trends in 2021 and 2022 were all about existing and scaling during the pandemic, 2023 is different. You'll want to try some of these new trends, additions, and add-ons for your next trade show presentation. Here are a few of this year's hot items.
Hot Trend – LED Lighting
It used to be that only the largest companies could afford LED lighting because of the costs involved. LED lighting, or light-emitting diode lighting, is more expensive than traditional lighting. However, that expense has dropped in recent years, and you can see LED lights in use all over the trade show floors. Presenters love using LED lights because they are brighter, come in tons of colors, and last longer than traditional lights. You can use LED lighting to highlight new products or to focus attention on your presentations, even for a small business. If you have a larger company, you can opt for LED tunnels, curved lighting underneath your new products or your logo, or even LED flooring options to draw potential customers to your presentation. Take some time to think about how you can add LED lighting to your exhibit.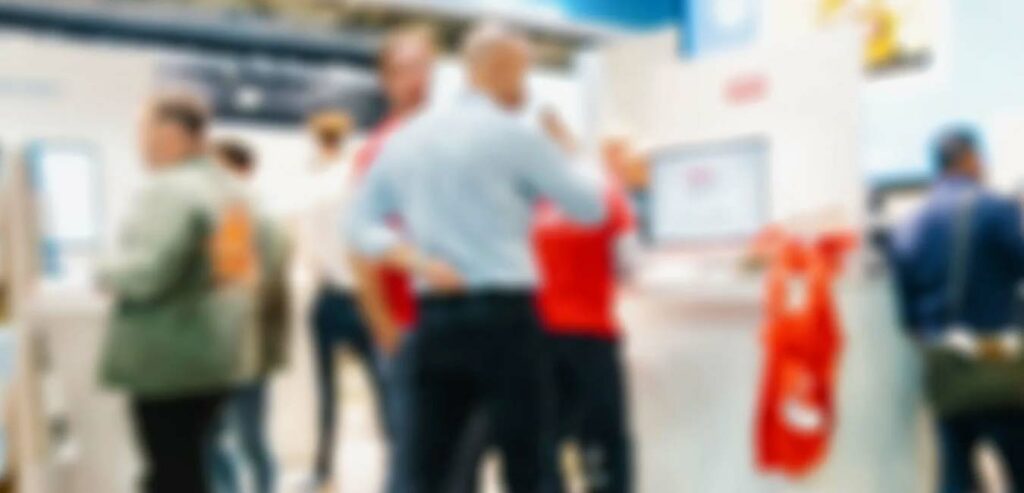 Sustainability as an Addition
Sustainability is here to stay for many companies. Research shows that over 90% of all businesses incorporate some form of sustainable practices into their business models. Sustainability looks different for every business, but here are some ways you can incorporate sustainability into your exhibit. Your use of sustainable practices is important to potential clients because it is becoming increasingly important to the public.
Companies are using plants, greenscapes, and natural materials in their exhibits to promote sustainable practices with materials that can be used and reused. If you create a wall of green plants as a way to promote green ideas, those plants can be used over and over in different areas of your exhibit.
Instead of presenting potential clients with trinkets they will look at once and then throw them away, many companies opt instead for long-term-use products or products made from recyclable materials. For example, many companies are giving away sow and grow kits, plants that use recycled cardboard for pots, and even clothing made from bamboo fibers. Think about what kind of incentives you pass out at trade shows and think about how you can upgrade them to reflect sustainability.
Adding On Comfort and Space at Trade Shows
While the early 2000s were all about clean lines and straight edges in trade show design, the trend now is for exhibition spaces to incorporate elements of comfort and space. You may want to think about places for people to sit and converse, or just pause for a minute to check their messages. People don't want to feel like you are giving them a hard sell–that trend of "greed is good" has passed. The focus now is collaboration and cooperation without high-pressure sales tactics. If you do plan a conversation area, it can't hurt to have some promotional materials lying around for people to peruse while they are chatting. You might also want to include some solar-powered chargers in a basket with your company logo on it, as a way to promote both comfort and sustainability.
What about flooring? As an add-on, consider adding a flooring element that will differentiate your booth from everyone else's. You can choose from all kinds of flooring options to create comfort and luxury flooring options are even available in faux wood or brick. Exhibitors can use different types of flooring to set off conversation areas from demonstration areas or even to match or complement your company logo.
Incorporate Technology Everywhere You Can
This may sound counterintuitive, but the more you can incorporate technology into your presentation at the trade show, the more effective you are. People don't just go to trade shows for a look at tech stuff, but it's nice to have them around as part of your presentation. For example, why not make VR (virtual reality) headsets part of your presentation? Customers could get a 360-degree-view of your products, and even try them out. You can also incorporate QR (quick response) codes into elements of your display, so that your prospective customers can scan a code onto their phones for additional information.
If you have a nice budget for presentations or exhibits at trade shows, you might want to try a couple of other ideas as additions to your display. Holograms and digital twins allow you to show prospective clients your products using advanced technology. Digital twins are great for product demonstrations, and holographs can deliver your testimony via a movie star or cartoon figure for even more impact. Both trends bring futuristic technology to your trade show exhibits.
You can also incorporate some 3D technology into your display. LED lights can be used to bring your company logo into prominence or highlight your new products and bring them to life. Like other LED lights, 3D light projections cost far less now than they used to.
Many business owners use technology to help them keep track of their prospective customers. You can use QR codes to achieve this as well, but having a business card scanner on hand is a great add-on for your display as well.
Add On Some Overhead Intrigue
In line with more roomy, spacious, and less cluttered interiors, you'll want to add on elements of design above the ground floor. Many companies are adding displays above ground, such as logo design and product views, for their customers. If you want to keep your display space open and fluid, adding items above the floor is helpful. You can also use ceiling space to add some flash and flare, such as your company logo lit with LED or neon, for example. You might also want to add some natural elements above, such as greenery or floral elements, to make your business name and logo really pop.
Wrapping Up
If you have been working trade show exhibits for a while, you know that each year's display needs to look a little different than the previous year to keep your image fresh in your prospective clients' minds. If it has been a while since you overhauled your exhibit, keep a few things in mind:
Aim for space and room; and don't pack your display full of product. People need room to move around in your exhibit.
Incorporate elements of comfort into your design, so that people have a place to relax and converse.
Avoid the hard sale and aim for elements of collaboration.
Technology is your friend.